Tamron Hall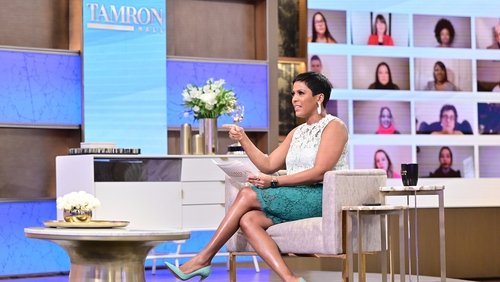 Former news host and journalist Tamron Hall discusses all things topical and engages those she interviews in thorough meaningful and entertaining conversations.
Last Episode
Aug 24th, 2020
Online scams and COVID-19 crimes, Associate Director of the Federal Trade Commission Monica Vaca
Online scams and COVID-19 crimes. The search for one man who allegedly used his charm to con a dozen women over the last 20 years, leaving them more than a million dollars in debt collectively – and how he was brought to justice; and a VICE News journalist who got caught up in an international love scam and documented her journey on tape. Plus, COVID-19 crisis cons, including "Zoom bombing" hackers; a woman scammed out of her stimulus money; and how a part time job opportunity nearly landed an innocent 26-year-old behind bars. And, Monica Vaca, the associate director of the Federal Trade Commission on why millennials have become a prime target for scammers during lockdown.
| | | |
| --- | --- | --- |
| 1 | Singer Fantasia and Turning Pain Into Inspiration | Sep 8th, 2019 |
| 2 | Actress Tracee Ellis-Ross Talks Hair | |
| 3 | A Grandmother Gives Birth to Her Own Grandchild | |
| 4 | Fashion Star Christian Siriano and DNA Secrets | |
| 5 | TV Icon Susan Lucci | Sep 12th, 2019 |
| 6 | Kenya Moore, Gretchen Rossi & More IVF Journeys | Sep 15th, 2019 |
| 7 | Millennial Nuns | Sep 16th, 2019 |
| 8 | The Rise of Revenge Porn | Sep 17th, 2019 |
| 9 | Gretchen Carlson & Mary Wilson | |
| 10 | Catherine Oxenburg, Mark-Paul Gosselaar & Tika Sumpter | |
| 11 | Underage Marriage; Emmys Recap | |
| 12 | A Real Life 50 First Dates | Sep 23rd, 2019 |
| 13 | My Father Was A Serial Killer | Sep 24th, 2019 |
| 14 | Titus O'Neil | Sep 25th, 2019 |
| 15 | Charlemagne Tha God | Sep 26th, 2019 |
| 16 | Vaccination Conversation | |
| 17 | Erica Campbell | Sep 30th, 2019 |
| 18 | Tamron & Her Nephews | Oct 1st, 2019 |
| 19 | Melissa Hartwig Urban | Oct 2nd, 2019 |
| 20 | Fashion Friday | Oct 3rd, 2019 |
| 21 | Esther Wojcicki & Wanda Durant | |
| 22 | Mathew Knowles | Oct 7th, 2019 |
| 23 | Sandyhook Parents & Aaron Stark | Oct 8th, 2019 |
| 24 | Ghosting & Yung Pueblo | Oct 9th, 2019 |
| 25 | Fashion Friday | Oct 10th, 2019 |
| 26 | Rick Ross | Oct 13th, 2019 |
| 27 | Mike Rowe | Oct 14th, 2019 |
| 28 | Cyntoia Brown | Oct 15th, 2019 |
| 29 | Jordin Sparks | Oct 16th, 2019 |
| 30 | Let's Talk: Opiods | Oct 17th, 2019 |
| 31 | Wendi McLendon-Covey | |
| 32 | Tyler Perry | Oct 21st, 2019 |
| 33 | Skip & Ernestine Bayless | Oct 22nd, 2019 |
| 34 | Megan Phelps | Oct 23rd, 2019 |
| 35 | Allyson Felix | Oct 24th, 2019 |
| 36 | Captain Tammie Jo Shults | |
| 37 | Tip "T.I." Harris | Oct 28th, 2019 |
| 38 | Debra Newell | Oct 29th, 2019 |
| 39 | Halloween Legends Ball with Chaka Khan | Oct 30th, 2019 |
| 40 | Dan Gasby and Alex Lerner | Oct 31st, 2019 |
| 41 | Sunny Hostin | |
| 42 | I Escaped A Serial Killer | Nov 4th, 2019 |
| 43 | Police Officer Suicides | Nov 5th, 2019 |
| 44 | Let's Talk: Astrology | Nov 6th, 2019 |
| 45 | Fashion Friday: Andre Leon Talley | Nov 7th, 2019 |
| 46 | Love & Relationships | |
| 47 | Nancy Grace | Nov 11th, 2019 |
| 48 | 11.13.19 | Nov 12th, 2019 |
| 49 | D.L. Hughley and Wilmer Valderrama | Nov 13th, 2019 |
| 50 | Cynthia Bailey | Nov 15th, 2019 |
| 51 | Whoopi Goldberg | |
| 52 | Ava DuVernay & Phillip Youmans | |
| 53 | Throwback Mystery Guest | |
| 54 | Throwback Mystery Guest & Comedian Gary Gulman | |
| 55 | Lauren Hutton | |
| 56 | Patti LaBelle/Deborah Cox | |
| 57 | Jon Dorenbos | |
| 58 | Kelly Rowland | |
| 59 | Exploring Polyamorous Relationships | |
| 60 | Candace Cameron-Bure | |
| 61 | "Mixed-ish" star Arica Himmel | |
| 62 | "Project Runway" Judge Elaine Welteroth | |
| 63 | Jane Lynch | |
| 64 | "Queer Eye's" Karamo Brown | |
| 65 | Forgiving the Unforgivable | |
| 66 | Sex Therapist Dr. Ruth Westheimer & Singer Dionne Warwick | Dec 11th, 2019 |
| 67 | Former United States Ambassador to the United Nations Nikki Haley | Dec 12th, 2019 |
| 68 | "Tamron Hall" Holiday Show! | Dec 13th, 2019 |
| 69 | Marvel's Hero Project | Dec 16th, 2019 |
| 70 | Miss Universe Zozibini Tunzi, Miss USA Cheslie Kryst, and Miss Teen USA Kaliegh Garris | Dec 17th, 2019 |
| 71 | "Hustlers" movie inspiration, Roselyn Keo | Dec 18th, 2019 |
| 72 | "A Christmas Carol's" LaChanze and her daughter Celia Rose Gooding | Dec 19th, 2019 |
| 73 | "A Family Christmas Gift" Actress Holly Robinson Peete & Cast of "Dear Evan Hanson" | Dec 20th, 2019 |
| 74 | Meagan Good, Devon Franklin | Dec 25th, 2019 |
| 75 | Jeff & Heather Rohrer, Dr. Drew Pinsky | Dec 27th, 2019 |
| 76 | Weight Loss Success Stories Revealed! | Jan 6th, 2020 |
| 77 | "Black-ish" Star Marsai Martin | Jan 7th, 2020 |
| 78 | Exercise Physiologist Marco Borges & Fitness Guru Jorge Cruise | Jan 8th, 2020 |
| 79 | Detox Doctor Dr. Gail Saltz & Clark Fredericks on Revenge & Regret | Jan 9th, 2020 |
| 80 | Property Brothers' Drew and Jonathan Scott | Jan 10th, 2020 |
| 81 | The Legendary Oprah Winfrey! | Jan 13th, 2020 |
| 82 | Yara Shahidi & Skye Turner | Jan 14th, 2020 |
| 83 | Kandi Burruss & Jennifer Hyman | Jan 15th, 2020 |
| 84 | Von Miller & Lynn Roy | Jan 16th, 2020 |
| 85 | Tyler Perry & Phylicia Rashad | Jan 17th, 2020 |
| 86 | Fit and Fabulous | |
| 87 | Nev Schulman and Kamie Crawford | Jan 23rd, 2020 |
| 88 | "Botched Up Bodies'" Apryl Michelle Brown | Jan 24th, 2020 |
| 89 | Why Can't We Sleep? | |
| 90 | College Admissions Scandal, Soledad O'Brien | |
| 91 | Super model Kathy Ireland & Comedian Tommy Davidson | |
| 92 | Billy Porter | |
| 93 | Rev Run & Justine Simmons | |
| 94 | Supermodel Beverly Johnson | |
| 95 | Netflix's "Cheer" Cast | Feb 4th, 2020 |
| 96 | Tia Mowry | Feb 5th, 2020 |
| 97 | Tracy McMillan | Feb 6th, 2020 |
| 98 | André Leon Talley & Star Jones | Feb 7th, 2020 |
| 99 | Tamron's Post Oscars® Show | |
| 100 | Nick & Vanessa Lachey | |
| 101 | Timbaland | Feb 12th, 2020 |
| 102 | Fran Drescher | Feb 13th, 2020 |
| 103 | DeVon Franklin | Feb 14th, 2020 |
| 104 | Bishop T.D. Jakes | |
| 105 | Dan Peres | Feb 18th, 2020 |
| 106 | Isaac Wright Jr. | Feb 19th, 2020 |
| 107 | Michelle Knight, Elizabeth Smart | Feb 20th, 2020 |
| 108 | Two couples who met on Twitter | Feb 21st, 2020 |
| 109 | Motivational Monday: Getting Through Grief | Feb 24th, 2020 |
| 110 | Ricki Lake, Montel Williams, and Rolonda Watts | Feb 25th, 2020 |
| 111 | Celebrating Female Entrepreneurs with Barbara Corcoran | Feb 26th, 2020 |
| 112 | Blair Underwood | Feb 27th, 2020 |
| 113 | A Real Conversation with Transgender Kids | Feb 28th, 2020 |
| 114 | Singer Angelique Kidjo & Actress Edie Falco | |
| 115 | "Live P.D." Host Dan Abrams, Analysts Tom Morris Jr. & Sergeant Sean Larkin | |
| 116 | All About Pets! | Mar 11th, 2020 |
| 117 | Boris Kodjoe, Nicole Ari Parker | Mar 12th, 2020 |
| 118 | Angela Bassett & Celebrating 25 years of Disney on Broadway | Mar 13th, 2020 |
| 119 | The latest on the Coronavirus, Miss Universe Zozibini Tunzi, Miss USA Cheslie Kryst, and Miss Teen USA Kaliegh Garris & Anthony Hamilton | |
| 120 | The latest on the Coronavirus, Roselyn Keo | |
| 121 | The latest on the Coronavirus, Karamo Brown and son Jason "Rachel" Brown, Mitch Albom, Tina Lifford | Apr 1st, 2020 |
| 122 | The latest on the Coronavirus, Marsai Martin, Anthony O'Neal | Apr 2nd, 2020 |
| 123 | The latest on the Coronavirus, Mark Cuban, Jane Lynch | Apr 3rd, 2020 |
| 124 | Homeschooling during the pandemic, Why can't we sleep? | |
| 125 | Capt. Patrick Amersbach talks USNS Comfort efforts during the pandemic, Soleil Moon Frye | Apr 7th, 2020 |
| 126 | Debbie Allen, Tim Gunn, André Leon Talley, Star Jones | Apr 8th, 2020 |
| 127 | Guy Fieri, Kim Fields, Gary Gulman | Apr 9th, 2020 |
| 128 | Venus Williams, Beverly Johnson | Apr 10th, 2020 |
| 129 | Chris Harrison, Colton Underwood | |
| 130 | DJ Jazzy Jeff | Apr 14th, 2020 |
| 131 | Coronavirus & Prisons | Apr 15th, 2020 |
| 132 | Andrew Yang, Suze Orman | Apr 16th, 2020 |
| 133 | Ryan Seacrest, Kelly Ripa, Olivia Munn | Apr 17th, 2020 |
| 134 | Nathalie Kelley, Victor Rasuk | |
| 135 | Tracy Morgan, Ryan Gaul, Dante Hoagland | Apr 21st, 2020 |
| 136 | Deepak Chopra On Wellness During Pandemic, Dealing with Loss & Grief | Apr 22nd, 2020 |
| 137 | Chef Carla Hall & Shaggy | Apr 23rd, 2020 |
| 138 | Moses' First Birthday, Dennis Quaid, Jacques Torres, Holly Robinson Peete | Apr 24th, 2020 |
| 139 | Atlanta Mayor Keisha Lance Bottoms, Rev. Dr. William J. Barber, II, Cal Ripken Jr. | |
| 140 | Bevy Smith & Nursing Home Pandemic Crisis | Apr 28th, 2020 |
| 141 | Pamela Adlon & Parenting Teens During A Pandemic | Apr 29th, 2020 |
| 142 | Singer JoJo & How the Pandemic Is Affecting the Fashion Industry | Apr 30th, 2020 |
| 143 | Tika Sumpter & Peter Gallagher, At Home Beauty During the Pandemic | May 1st, 2020 |
| 144 | Lecy Goranson & Cedric Yarbrough | |
| 145 | COVID-19 Around the World | May 5th, 2020 |
| 146 | Frankie Grande | May 6th, 2020 |
| 147 | COVID-19: The Homeless Problem | May 7th, 2020 |
| 148 | Tina Knowles, Celebrating moms for Mother's Day | May 8th, 2020 |
| 149 | Heroes of the Pandemic | |
| 150 | Exploring small towns in America fighting for survival, including Tamron's hometown of Luling, Texas | |
| 151 | Phil Donahue and Marlo Thomas | |
| 152 | Domestic violence & quarantining | |
| 153 | College and COVID-19, Kevin O'Leary, Alfonso Ribeiro | |
| 154 | Wanda Cooper-Jones, mother of Ahmaud Arbery, Wayne Brady | |
| 155 | Dylan McDermott | May 19th, 2020 |
| 156 | Debbi Morgan | May 20th, 2020 |
| 157 | Andre Leon Talley | May 21st, 2020 |
| 158 | Anthony Anderson, Chef Art Smith, Tamar Braxton | May 22nd, 2020 |
| 159 | Janelle Monáe | May 26th, 2020 |
| 160 | Erin and Ben Napier & Iyanla Vanzant | May 27th, 2020 |
| 161 | Gabrielle Union | May 28th, 2020 |
| 162 | Cooks in quarantine: Chef Michael Symon, Chef Tim Love, Chef Jessica Tom & Tabitha Brown | May 29th, 2020 |
| 163 | Celebrating Pride Month with Rosie O'Donnell, NBA star Reggie Bullock, Danny Burstein & Rob McClure | |
| 164 | CeCe Moore, Victor Cruz, Cat & Nat, Elmo | |
| 165 | Hear Us Now | Jun 12th, 2020 |
| 166 | Breonna Taylor's mother, Spike Lee, Delroy Lindo and Jonathan Major | |
| 167 | Paul Reiser & Padma Lakshmi | Jun 22nd, 2020 |
| 168 | John Legend | Jun 23rd, 2020 |
| 169 | "The Baker and the Beauty" Nathalie Kelley and Victor Rasuk | Jun 24th, 2020 |
| 170 | Deepak Chopra On Wellness During Pandemic, Dealing with Loss & Grief | Jun 25th, 2020 |
| 171 | Senator Kamala Harris, Chef Carla Hall, Shaggy | Jun 26th, 2020 |
| 172 | Marcia Gay Harden | Jun 29th, 2020 |
| 173 | Tamron's Hot Summer Giveaway, Ben Platt, Loni Love | Jul 6th, 2020 |
| 174 | "Tune In to Win – Hot Summer Giveaways," Karen Laine and Mina Starsiak, Mikel Welch with our very own "Porch Wars" | |
| 175 | "Tune In to Win – Hot Summer Giveaways", Debra Messing | Jul 20th, 2020 |
| 176 | "Tune In to Win – Hot Summer Giveaways" with Danny Seo & John Quiñones | Jul 27th, 2020 |
| 177 | Incredible Stories of Survival | Aug 3rd, 2020 |
| 178 | Most Talented Kids in the World, Adrienne Bankert | Aug 10th, 2020 |
| 179 | Jay Manuel | Aug 17th, 2020 |
| 180 | Online scams and COVID-19 crimes, Associate Director of the Federal Trade Commission Monica Vaca | Aug 24th, 2020 |
| 181 | ALL-NEW "Tamron Hall" with hacks to make your life easier! | |