30 for 30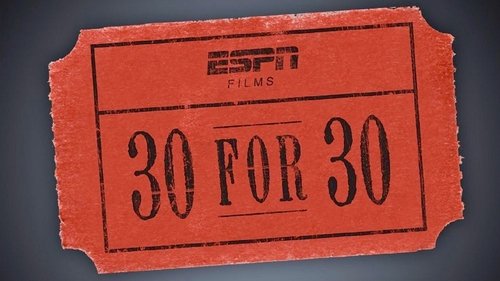 Inspired by ESPN's anniversary, ESPN Films is launching 30 FOR 30, an unprecedented documentary series featuring 30 of today's finest storytellers telling thirty remarkable stories from the ESPN era. On their own, each of the films will be an intimate look at a specific story, relevant to larger themes from the modern era. Collectively, these films will be a diverse mosaic of what sports has meant to American and World culture in the last thirty years. Each storyteller will bring their passion and personal point of view to their film detailing the issues, trends, athletes, teams, rivalries, games and events that transformed the sports landscape from 1979 to 2009.
Last Episode
Nov 9th, 2015
30 for 30 Shorts: Chattanooga Strong
The story behind the Chattanooga Heroes Fund, started by University of Tennessee alum Peyton Manning to benefit the families of the service members and police officers who were killed or wounded in a July 2015 shooting incident in Chattanooga.
| | | |
| --- | --- | --- |
| 1 | Believeland (Alternate Ending) | Jun 30th, 2016 |
| 2 | Believeland (Alternate Ending) | Jun 30th, 2016 |
| 3 | Herschel | Sep 7th, 2011 |
| 4 | Herschel | Sep 7th, 2011 |
| 5 | Renée | Oct 4th, 2011 |
| 6 | The Dotted Line | Oct 11th, 2011 |
| 7 | Charismatic | Oct 18th, 2011 |
| 8 | The Real Rocky | Oct 25th, 2011 |
| 9 | Unguarded | Nov 1st, 2011 |
| 10 | Roll Tide/War Eagle | Nov 8th, 2011 |
| 11 | The Marinovich Project | Dec 10th, 2011 |
| 12 | Goose | Feb 26th, 2012 |
| 13 | The Announcement | Mar 11th, 2012 |
| 14 | 26 Years: The Dewey Bozella Story | Mar 15th, 2012 |
| 15 | Right to Play | Jun 2nd, 2012 |
| 16 | 30 for 30 Shorts: Here Now | May 12th, 2012 |
| 17 | 30 for 30 Shorts: Arnold's Blueprint | Sep 26th, 2012 |
| 18 | 30 for 30 Shorts: Jake | Oct 25th, 2012 |
| 19 | 30 for 30 Shorts: The Arnold Palmer | Nov 28th, 2012 |
| 20 | 30 for 30 Shorts: Ali: The Mission | Jan 16th, 2013 |
| 21 | 30 for 30 Shorts: Disdain the Mundane | Feb 13th, 2013 |
| 22 | 30 for 30 Shorts: Holy Grail: The T206 Honus Wagner | Feb 27th, 2013 |
| 23 | 30 for 30 Shorts: Silver Reunion | Mar 27th, 2013 |
| 24 | 30 for 30 Shorts: Irrelevant Giant | Apr 17th, 2013 |
| 25 | 30 for 30 Shorts: Cutthroat | May 29th, 2013 |
| 26 | 30 for 30 Shorts: Tommy and Frank | Jul 23rd, 2013 |
| 27 | 30 for 30 Shorts: Wilt Chamberlain: Borscht Belt Bellhop | Aug 14th, 2013 |
| 28 | 30 for 30 Shorts: Arthur & Johnnie | Aug 28th, 2013 |
| 29 | 30 for 30 Shorts: Collision Course | Sep 25th, 2013 |
| 30 | 30 for 30 Shorts: The Schedule Makers | Nov 6th, 2013 |
| 31 | 30 for 30 Shorts: The Great Imposter | Nov 20th, 2013 |
| 32 | 30 for 30 Shorts: Judging Jewell | Jan 29th, 2014 |
| 33 | 30 for 30 Shorts: The Deal | Feb 12th, 2014 |
| 34 | 30 for 30 Shorts: Untucked | Mar 12th, 2014 |
| 35 | 30 for 30 Shorts: From Harlem with Love | Apr 13th, 2014 |
| 36 | 30 for 30 Shorts: POSTERIZED | May 21st, 2014 |
| 37 | 30 for 30 Shorts: 'MECCA: The Floor That Made Milwaukee Famous' | Jun 11th, 2014 |
| 38 | 30 for 30 Shorts: The High Five | Jul 23rd, 2014 |
| 39 | 30 for 30 Shorts: Kid Danny | Aug 13th, 2014 |
| 40 | 30 for 30 Shorts: Fields of Fear | Sep 24th, 2014 |
| 41 | 30 for 30 Shorts: The Great Trade Robbery | Oct 8th, 2014 |
| 42 | 30 for 30 Shorts: Our Tough Guy | Nov 12th, 2014 |
| 43 | 30 for 30 Shorts: Robbed | Dec 3rd, 2014 |
| 44 | 30 for 30 Shorts: Student/Athlete | Jan 7th, 2015 |
| 45 | 30 for 30 Shorts: The Sweat Solution | Jan 21st, 2015 |
| 46 | 30 for 30 Shorts: An Immortal Man | Feb 25th, 2015 |
| 47 | 30 for 30 Shorts: Wrestling the Curse | Feb 27th, 2015 |
| 48 | 30 for 30 Shorts: The Billion Dollar Game | Mar 18th, 2015 |
| 49 | 30 for 30 Shorts: Unhittable: Sidd Finch and the Tibetan Fastball | Apr 1st, 2015 |
| 50 | 30 for 30 Shorts: The Anti-Mascot | May 20th, 2015 |
| 51 | 30 for 30 Shorts: Ted Turner's Greatest Race | Jun 3rd, 2015 |
| 52 | 30 for 30 Shorts: Spyball | Jul 8th, 2015 |
| 53 | 30 for 30 Shorts: Brave in the Attempt | Jul 28th, 2015 |
| 54 | 30 for 30 Shorts: Delaney | Aug 19th, 2015 |
| 55 | 30 for 30 Shorts: First Pitch | Sep 9th, 2015 |
| 56 | 30 for 30 Shorts: The Pittsburgh Drug Trials | Sep 23rd, 2015 |
| 57 | 30 for 30 Shorts: #BringBackSungWoo | Oct 7th, 2015 |
| 58 | 30 for 30 Shorts: Every Day | Oct 28th, 2015 |
| 59 | 30 for 30 Shorts: Tose: The Movie | Nov 11th, 2015 |
| 60 | 30 for 30 Shorts: Thicker Than Water | Dec 1st, 2015 |
| 61 | 30 for 30 Soccer Stories: Hillsborough | Apr 15th, 2014 |
| 62 | 30 for 30 Soccer Stories: Maradona '86 | Apr 22nd, 2014 |
| 63 | 30 for 30 Soccer Stories: The Opposition | Apr 22nd, 2014 |
| 64 | 30 for 30 Soccer Stories: Ceasefire Massacre | Apr 29th, 2014 |
| 65 | 30 for 30 Soccer Stories: The Myth of Garrincha | Apr 29th, 2014 |
| 66 | 30 for 30 Soccer Stories: Mysteries of the Rimet Trophy | May 6th, 2014 |
| 67 | 30 for 30 Soccer Stories: Barbosa: The Man Who Made All of Brazil Cry | May 6th, 2014 |
| 68 | 30 for 30 Soccer Stories: White, Blue and White | Jul 1st, 2014 |
| 69 | 30 for 30 Shorts: Friedman's Shoes | Feb 9th, 2016 |
| 70 | 30 for 30 Shorts: Slick, Nancy, and the Telethon | Feb 16th, 2016 |
| 71 | 30 for 30 Shorts: The Bad Boy of Bowling | Feb 23rd, 2016 |
| 72 | 30 for 30 Shorts: I Am Yup'ik | Mar 1st, 2016 |
| 73 | 30 for 30 Shorts: No Kin To Me | Mar 8th, 2016 |
| 74 | 30 for 30 Shorts: Tiger Hood | Apr 12th, 2016 |
| 75 | 30 for 30 Shorts: When the King Held Court | Apr 19th, 2016 |
| 76 | 30 for 30 Shorts: Gonzo @ The Derby | May 3rd, 2016 |
| 77 | 30 for 30 Shorts: A.C. Green: Iron Virgin | May 10th, 2016 |
| 78 | 30 for 30 Shorts: The Shining Star of Losers Everywhere | May 17th, 2016 |
| 79 | 30 for 30 Shorts: We Are | May 24th, 2016 |
| 80 | 30 for 30 Shorts: Eternal Princess | May 24th, 2016 |
| 81 | Believeland (Alternate Ending) | Jun 30th, 2016 |
| 82 | 30 for 30 Shorts: The Guerrilla Fighter | Jul 27th, 2016 |
| 83 | 30 for 30 Shorts: What the Hell Happened to Jai Alai | Aug 2nd, 2016 |
| 84 | 30 for 30 Shorts: The Throwback | Dec 5th, 2016 |
| 85 | 30 For 30 Shorts: The Counterfeiter | May 27th, 2017 |
| 86 | 30 for 30 Shorts: Strike Team | Sep 12th, 2017 |
| 87 | Baltimore Boys | Aug 8th, 2017 |
| 88 | Morningside 5 | Aug 8th, 2017 |
| 89 | 30 for 30 Shorts: Ray Allen/aka - Jesus Shuttlesworth | Aug 8th, 2017 |
| 90 | 30 for 30 Shorts: 86–32 | Aug 8th, 2017 |
| 91 | 30 for 30 Shorts: Redemption Song | Aug 8th, 2017 |
| 92 | 30 for 30 Shorts: The Amazing Adventures of Wally and the Worm | Dec 15th, 2017 |
| 93 | 30 for 30 Shorts: Chattanooga Strong | Nov 9th, 2015 |