The Beatbuds, Let's Jam!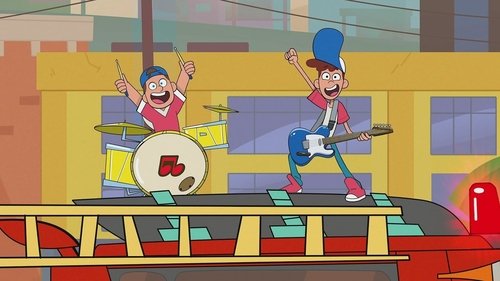 Rock 'n' roll duo and best friends Jonny and Matty, a.k.a. The BeatBuds, are traveling to their big concert, The BeatBASH. As they journey to the show in The Beat Bus, they have awesome fun-filled experiences making new friends and performing their songs with everyone and everything they encounter.
Last Episode
Jun 11th, 2021
Get Outside…AND ROCK!
The BeatBuds have finally made it to the Beat Bash but the venue is too small for all their new members and fans. The Buds get a great idea to "Get Outside and Rock!"
| | | |
| --- | --- | --- |
| 1 | Hello BeatBuddies | Jun 7th, 2021 |
| 2 | The Silly Monkey | Jun 7th, 2021 |
| 3 | The Dino Dance! | Jun 8th, 2021 |
| 4 | The Planets Song | Jun 8th, 2021 |
| 5 | The Froggy Hop | Jun 9th, 2021 |
| 6 | Save the Day! | Jun 9th, 2021 |
| 7 | Up Down | Jun 10th, 2021 |
| 8 | Racer | Jun 10th, 2021 |
| 9 | Sam the Garbage Man | Jun 11th, 2021 |
| 10 | Get Outside…AND ROCK! | Jun 11th, 2021 |